Today we'll be introducing you to 'Nikka whisky' which has been recently added to the Sake Online collection. Although the brand is quite famous in Japan, it is in fact, not very well-known on Australian shores.
To understand more about Nikka whisky, we have interviewed Mr Kelvin Low, General Manager and Bartender of Heirloom who is proud of the abundant collection of Nikka whisky stocked in the restaurant.
We hope that you too, can feel the Kelvin's passion for the charming and bold Nikka whisky.
— How did first encounter Nikka Whisky? And what was your initial impression?
I first encountered Nikka whisky about 5 years ago. The first whisky I tried was 'From the Barrel' – the square bottle. Around 5 years ago, not many people in Melbourne knew much about Nikka whisky. So when I tried it, my senior started to exclaim "This is Yoichi, Yoichi!", and of course, we had no idea. But everyone seemed to enjoy "From the Barrel" very much. It was really good.
There were more well-known brands of Japanese whiskies at the time, but I really enjoyed the Nikka whisky I had. The impression it had left on me was that it had a deep aroma but was smooth and very easy to drink. I became engrossed with it, but I didn't fully appreciate and understand whiskies at the time.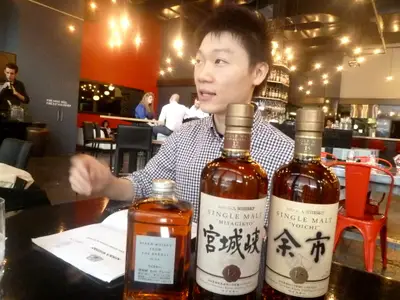 The label read "From the Barrel", but it didn't really have a meaning; not many whiskies have these kinds of labels.
But, that was 5 years ago.
Only about a year ago, I started appreciating whiskies a little bit more. From then, I started to research more about Nikka Whisky and we have slowly built a collection here at Heirloom. Presently, we have every single label from Nikka Whisky which is something around 23 to 24 bottles. But in total, Heirloom's collection consists of 63 labels, probably Australia's largest range of Japanese whisky.

— Could you describe the characteristics of Nikka Whisky, especially 'Yoichi 15 Years Old', 'Miyagikyo 12 Years Old' and 'From the Barrel'?
Nikka is quite interesting as they have got two different distilleries; one in Yoichi and one in Miyagikyo.
Mr Taketsuru, the founder of Nikka first established the Yoichi distillery around the 1930's. Of course, he was the first Japanese man who went Scotland to learn how to make whisky. He wanted to bring back the same technique and same taste to Japan. So he had really good vision of what he wanted for his whisky. His aim was to make a Scotch whisky out of Scotland.
Travelling around Japan to search for the best location, he discovered Yoichi which is located in Hokkaido and declared, "This is the best place! I want to set up my distillery here!" Not only was the temperature comparable to Scotland, he also had access to peat (partially decayed vegetation which are fired to dry malted barley used for scotch production) and high quality water.
Nikka Whisky 'Yoichi 15 Years Old'

The whiskies in the Yoichi series are very 'masculine', a little bit smoky but full in flavour and body. Its flavour is very strong and the flavour style is comparable to scotch. Compared to the Miyagikyo series, Yoichi 10, 12 or even 15 years old are considered smokier. In Japan, whiskies from Yoichi are considered benchmark, leading to its popularity. Generally, I would say that men are more likely to appreciate the stronger flavours of Yoichi as it is very similar to scotch.

Yoichi is of course, very popular in Japan. If you mention Nikka Whisky in Japan, you will no doubt hear about Yoichi first.

Nikka Whisky 'Miyagikyo 12 Years Old'

The Miyagikyo distillery on the other hand was built in 1969, 35 years after the establishment of the Yoichi distillery. The distillery, located in Sendai, is in the middle of a beautiful forest and is surrounded by pristine clear water. This in turn is reflected onto the lighter, floral 'feminine' flavours of the Miyagikyo series.

If you ever have the chance to smell the whiskies, you can be sure to notice that "Yoichi is masculine, whereas Miyagikyo is very feminine." I quite like the different aspects in the two distilleries as it makes my job a little bit easier. I can say to customers "Would  you like something strong or smoky or something smooth and easy to drink? If you want something strong, it's definitely Yoichi. Whereas Miyagikyo is selected for a lighter option as it is very flowery and floral – perfect for a women's first whisky experience."

Nikka Whisky 'From the Barrel'

Unlike the previous two series, 'From the Barrel' is a blended whisky. This one contains malt, barley and a variety of grain whisky including corn and wheat. The grain whisky lends it a very nice body and structure. If you have a smell of this, you will find it possess a beautiful nose aroma of: coconut, cinnamon, sandalwood and a good combination of spice. On the palate, it is very, very sweet.

This was my first whisky and it remains my favourite until today. Not only does it contain different flavours, it's also very versatile in cocktails as well. I think it'll be very easy for bartenders to use.
◆ Nikka Whisky Cocktails at Heirloom

Miyagikyo – Miyagikyo no Sumire | $18.00
Because Miyagikyo is quite floral and very aromatic on the nose, we mixed Miyagikyo 12 Years Old with violet (sumire) liquor, chocolate liquor and just a touch of orange juice. This cocktail is creamy and flowery, just perfect for the ladies.

From the Barrel – My Sweet Rita | $16.00
This time we are going to do something a bit spicier.
Rita is the wife of Mr Taketsuru. She's Scottish and, of course, Mr Taketsuru met her whilst he was in Scotland undertaking training. They fell in love straight away and they got married there too. She actually followed him back to Japan as well. It's really interesting and romantic that she never returned to Scotland and was beside Mt Taketsuru throughout the war. I'm sure they had a great time in Yoichi together.
So I wanted to dedicate this cocktail to her, so we named it 'My Sweet Rita'. It's  nice and sweet, but still spicy. I can imagine Rita just like that because life for her must have been very difficult, for her to leave her home and family to go to Japan, so many years ago. So I would assume she is pretty strong in character, a little 'spicy', but overall a sweet lady.
For this cocktail, we combined a very spicy homemade Falernum syrup with 'From the Barrel'. We also add some yuzushu. Furthermore, we tried to pushing it more by adding another Japanese ingredient – spiced apple syrup as well. The taste is quite interesting as it is a bit spicy.

Yoichi – Smoky Yuzu Old Fashioned | $20.00
This is one of our original cocktails using Yoichi. It takes a little longer to make but every bartender knows 'Old Fashioned' and really likes to make it.
The process is actually very simple. Usually, we just blend it with whisky or rum, a dash of bitters, and sugar yuzu liqueur. That's it. Just stir down. In our version, we use 'Yoichi 15 years old'. You will get the sweetness and sourness of yuzu, plus smokiness of Yoichi. It is a very nice balanced drink and a slightly stronger cocktail. This kind of cocktail is done because people want to try the original taste of spirit.

◆ Dessert using Nikka Whisky at Heirloom
Houji Tea Sticky Date Pudding with Nikka Whisky 'From the Barrel' sauce | $13.00
Like I've mentioned before 'From the Barrel' is quite versatile. It has a lot of flavour and possesses a wonderful body.
Sticky date puddings are very popular in Australia. Usually people have it during the winter Christmas period in Europe. So, we make sticky date pudding at Heirloom during winter. It has a little bit houji tea which lends a smoky flavour. Accompanying the caramel apples is a scoop of vanilla ice cream and adorning the dessert is an orange and coconut tuile. The sauce of course is the 'From the Barrel' caramel sauce. Before eating, pour few drops of 'From the Barrel' onto the pudding. It's a little bit strong, but we've received great feedback from our customers.
— What do you think of the possibility of Nikka Whisky in Australia?
The popularity of Nikka will certainly increase. Nikka has already brought in 4 kinds of whisky into the Australian market. There is much bigger portfolio in terms of Japanese whisky.
Japanese whisky is currently booming all over the world. In Europe, out of Japan, I think France has the largest collection of Japanese whisky. Not only does it have excellent quality,  there also many different flavours to choose from. Moreover, each bottle has its own character. It's possible to market the whisky's individual characteristics to people who appreciate whisky and connoisseurs.
Like any other Japanese company, Nikka pays fine attention to detail. To make 'From the Barrel' they make over 100 expressions and blend them together.
Talking about distribution, it has only just started. But I am certain that every bar will try to get it in stock.
The bottle design itself is very nice. If you look at 'From the Barrel', it is very simple with one label on the bottle with very minimal decoration. This bottle has been in use since 1985 and has never been changed, yet people still love it.
For the other bottles, it looks great with a little bit of Japanese characters on the front. People love to see them at the back of bars.
I think Nikka is already one step ahead of any other distillery in Australia and they are certainly growing up. I will not be surprised if Nikka becomes the bartender's choice of whisky to every cocktail. Before Nikka Whisky distribution became available in Australia, bartenders from night clubs and cocktail bars came to ask me "Where can I get it?" That's why I think Nikka is going to have booming success.
Everyone in the industry and whisky lovers is already excited and everyone is talking about Nikka.
— Message to
>> For ladies who haven't had whisky before
Please try a cocktail first. There are few dimensions mentioned earlier. It is really good way to enjoy it minus the strength of the drink.
>> For seasoned drinkers and people who already enjoy whiskies
Please visit Heirloom! We carry the whole range of what Asahi Australia is carrying. We also carry about 20 others.
>> Enjoy at home
Take it easy and enjoy the simplicity of having a drink. I prefer my whiskies best neat. No ice or water at all. Of course, you can add a bit of water if the alcohol percent is very high. Real whisky has to have at least 40% of alcohol.
Nikka Whisky actually contains a high percentage of alcohol. Of course, you can enjoy 'From the Barrel' by own its own, but if it is too strong, I recommend you to add few drops water. The water actually opens up the whisky a bit because of a chemical reaction. You'll get a richer aroma and taste.
Smell the whisky first, hold a bit in the mouth, drink it, and then wait for the flavours to rise up again on the palate.
By the way, we are also doing Nikka Whisky Tasting Flights* at Heirloom. If anyone wants to come and just try Nikka Whisky, we are offering three different bottles on each tasting flight. You can get half shot of each, compare and give you the tasting notes as well. You can look at whiskies, smell the whiskies, look at the notes and enjoy the taste.
* Heirloom's Nikka Whisky Tasting Flights
• Nikka The Purest Malts | $21.00
• Nikka Tribute: Tribute to Masataka Taketsuru " Father of Japanese Whisky" | $24.00
• Nikka "From Malts & Grains to the Barrel" | $18.00
So how about it? Have you been charmed by Nikka yet? If so, please come in a have a taste.
HEIRLOOM
131 Bourke Street, Melbourne VIC 3000
TEL: 03 9639 1296
Bookings: [email protected]
Open Hours
BREAKFAST | Mon to Fri 6:30AM – 11:00AM, Sat & Sun 7:00AM – 11:30AM
LUNCH | Mon to Fri 12:00PM – 3:00 PM
BAR MENU | Mon to Fri 3:00PM – 6:00PM
DINNER | Sun 6:00PM – 10:00PM, Mon to Sat 6:00PM – 10:30PM
★To Purchase Nikka Whisky, go to SAKE ONLINE now!