15 May 2020
One street back from a cacophony of retailers, restaurants and bars on busy Chapel Street is Teppankai, Melbourne's latest offering in Japanese dining.
Walking past, you may wonder what's concealed behind the facade of timber posts on the ground floor of a new apartment block.  It's not until you're inside Teppankai that you realise a sanctuary has been created for a contemporary Japanese dining experience, safe from the hustle outside. 
Malaysian-born managing director, Richard Tan, explains how a reunion with a childhood friend led to the decision to create a new Japanese fine-dining experience in Melbourne.  He goes on to describe the idea behind Teppankai.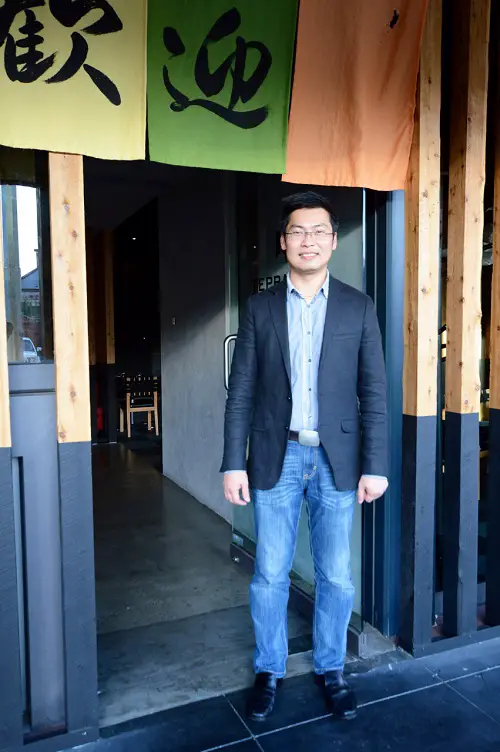 "The first two Japanese characters of our logo mean open-grill.  The third, 'Kai', translates to ocean and is also the word for food in Maori.  My partner and his wife are from New Zealand, so we chose a blend of words to mean seafood grilled on a plate," Richard says. 
The Teppanyaki experience is normally associated with food going aerial in a performance by the chef, but at Teppankai, the focus is on the preparation of memorable cuisine.


"Customers should expect modern Japanese dishes.  You will see our chefs' knife-skills in action, but we don't include the tricks normally associated with a Teppanyaki restaurant; we want to respect the food and provide an experience of contemporary Japanese cuisine," says Richard.
Teppankai was designed by the award-winning retail and hospitality architect, Wayne Finschi, who is also responsible for a number of other popular local restaurants. 
"He was inspired by the idea of a temple," explains Richard. 

It's a clever design that adds to the mystery from outside.  Step inside, and the wooden posts, polished concrete floors and striking tones of the decor add to the warm and stylish confines of Teppankai, a relief from the intensity of Chapel Street. 
There's a separate private dining area and tables for a more intimate dinner, but the grill, which extends the length of the restaurant, provides the – eat while you watch – Teppanyaki experience.
"I want Teppankai to get a reputation for service," says Richard.  "Right from the start, we've placed a lot of importance on being attentive to customers, and the feedback we're getting is that they have noticed it.  We want to create a five-star experience with a three-star price tag".

Teppankai's head chef, Masakuni Kuriki, trained in Nagoya, Japan and has thirty years experience.  At Teppankai, he plans to deliver traditional meals prepared in a contemporary style to Australian diners.  His signature dish, Spicy Fish Tempura Roll, is a good example.

Salmon sushi is prepared in a light tempura batter delicately spiced with chili.  It comes plated as a mountain with a drizzle of mayonnaise sauce for good measure.  Masakuni recommends it as starter – probably to wake up your palate.

Traditional sushi and sashimi are available.  As the kingfish, tuna or king dory sashimi dissolves in your mouth you might remember that Masakuni's day starts in the morning dealing with suppliers of fresh produce. 
An assortment of Teppanyaki may follow your journey through the dinner menu and could be finished with a flaming desert. 

Travel to a Japanese city and you'll discover the sort of modern dishes found at Teppankai.  Judging by the reviews, Melbourne is pleased to have a new contemporary offering.
TEPPANKAI
Mon – Sat 12 pm – 2.30 pm – Lunch (a lunch menu is available) 6 pm – 10 pm – Dinner
www.teppankai.com.au
34 Bray Street (Off Chapel Street)
South Yarra, 3141
Phone: 03 9827 8822
Article: Peter Dewar
Photos: maruyo